Meet Tim Cojocnean
Orange County Employment & Labor Law Attorney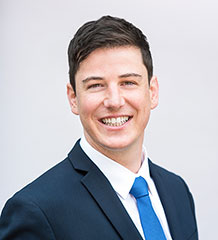 Timothy Cojocnean's passion for workplace justice and workers' rights is boundless. His variety of experiences and in-depth knowledge of employment law make Timothy the ideal advocate for your rights in the workplace.
Timothy's dedicated service to individual rights began in law school where he honed his skills as a student attorney for the International Human Rights Clinic. Handling high-stakes issues, such as assisting oppressed labor unions in Central America and aiding Dominicans of Haitian descent, Timothy gained a true appreciation for the individual's need for strong representation. He also appeared before the United Nations to address violations surrounding water rights and contamination on behalf of community representatives from Flint Michigan.
Timothy's selfless pursuit of justice also includes representing low-income employees across the Silicon Valley region on a pro bono basis while working at Community Legal Services in East Palo Alto. He gained valuable expertise handling a wide variety of California employment cases, including wage and hour claims, sexual harassment claims, failure to provide medical leave and reasonable accommodations, as well as discrimination claims based on disability, gender, and pregnancy.
Timothy received his Bachelor of Arts degree in philosophy from UC Santa Cruz and went on to graduate from Santa Clara University School of Law. Timothy is trilingual in English, Spanish and Romanian.